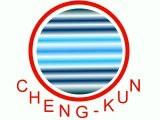 ON 1989, OUR FACTORY WAS ESTABLISHED TO PRODUCE HIGH FREQUENCY
MACHINES. AND WE HAVE STARTED TO DO THE INTERNATIONAL-TRADING SINCE 1996.
OUR MACHINES HAVE THE APPLICATION TO THE WATERPROOF OF CLOTHES AND SHOES,
PLASTIC WELDING, THE HEATING PROCESS ON METAL, PROCESS ON WOODEN.
RUNNING BUSINESS
A.DESIGNING, FABRICATIING AND SELLING ALL KIND OF HIGH-FREQUENCY MACHINESˇC
B.DESIGNING, FABRICATIING AND SELLING THE SEAM-SEALED MACHINE.
C.INTERNATIONAL-TRADING ON THE ABOVE FIELDˇC
ˇ@
ˇ@
PATENT : 170500

Guide rail

This new feature could avoid the damage of parts and make the operation smooth. No worry about the excessive viscose on tape which causes working piece get into the wheel and damaged .

PATENT : 171306

Unity operation

This unity operation can help operators easy handling. No matter what different thickness of working pieces.
ˇ@
ˇ@
ˇ@
ˇ@
ˇ@
ˇ@
ˇ@
ˇ@
ˇ@
ˇ@
ˇ@
ˇ@
ˇ@
ˇ@
ˇ@
ˇ@
ˇ@
ˇ@
ˇ@
ˇ@
---
ALL RIGHTS RESERVED BY CHENG-KUN ELECTRIC CO.,LTD

Designed by Walker Chen

The last update on Mon, 04/25/2005

ˇ@